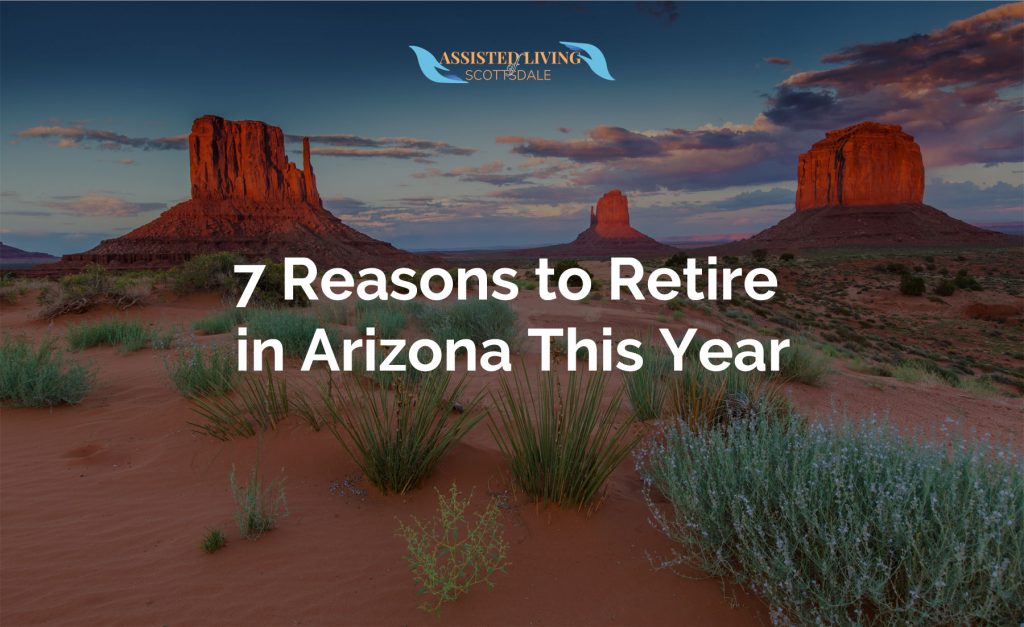 Retirement planning is more than saving up money. It's also about deciding where you should spend your golden years. After a lifetime of working, raising families, and living life, most seniors want to find a comfortable place to enjoy their time within their budget.
Arizona has a lot to offer seniors. There is some cost of living variation between different cities, but there are many options that are affordable without sacrificing luxury. If you are approaching retirement age or if you have a loved one who is already there, find out what Arizona has to offer.
Arizona is a Moderately Tax-Friendly Locale for Seniors
Budgeting is essential to a happy, stress-free retirement. You need to know that your money will last. Living in a place with high tax rates can make it harder to stretch your retirement funds.
According to SmartAsset, Arizona is recognized as a moderately tax-friendly state for retirees. Social security benefits are not taxed however you still have to pay taxes on funds distributed from retirement savings accounts like 401ks or IRAs. Pensions are also taxable. If you receive a U.S. civil service or Arizona state or local pension, then you may be eligible for a $2,500 deduction annually.
The average state and local sales tax rates are approximately 8.37% with property tax rates at around 0.72%.
There is no escaping the tax collector, however, you will pay less than you would when retiring in many other U.S. states.
Affordable Cost of Living in the Right Arizona Cities
When people hear "Arizona," one of the first places they usually think of is Phoenix. The city is a popular destination and more affordable than other big cities around the United States. However, you shouldn't limit your retirement options to one place. Arizona is home to many other smaller communities, including attractive suburbs just outside of Phoenix.
Scottsdale is located less than 20 miles away and is a retiree's paradise. The area is packed with amenities and provides a luxurious living experience.
Many Attractions for Nearly Endless Entertainment
There's much to do in Arizona! Active seniors can take an electric bike tour through downtown Scottsdale. There's the Medieval Times Dinner & Tournament and the beauty of Old Town. Explore the Fifth Avenue shops to find everything from Native American jewelry to wine, fine art, and home goods.
There are historic sites to explore as well, like the Old Adobe Mission on Brown Avenue. This landmark was constructed by the first Mexicans to arrive in the area in the late 1910s. Today it is one of only three still standing in downtown Scottsdale.
Restaurants, museums, art galleries, and local events bring even more entertainment opportunities throughout the year.
Varied Climate Gives You Many Options for Comfort
Arizona has deserts, but that isn't the only environment in the state. It offers a variety of climates to choose from. The Phoenix region is very comfortable during the winter months, usually reaching highs in the 60s and 70s F.
The summer can get warm, but the low humidity makes it feel far more comfortable than areas with high humidity.
If you prefer a cooler climate, you can travel to Flagstaff. The city is higher in elevation than Phoenix and enjoys gorgeous mountain and ponderosa pine views. It also tends to be around 25 degrees cooler than Phoenix.
Low-Maintenance Landscaping Thanks to Local Flora
Landscaping is easy in Arizona. If you decide to buy or rent a home that requires yard maintenance, you'll be glad you're here.
Properties are very low maintenance in most regions. That's because most are filled with rocks instead of grass. It's a gorgeous aesthetic that doesn't require lots of mowing, trimming or pruning. Some places, like Glendale, have even switched entirely to native plants to save water.
If you are on the fence about living in Arizona, it can help to spend a year or two in the area before finding a senior living community. If you do, then you'll be glad to hear that lawncare won't be an issue.
Low Humidity and High Heat is Good for Your Health
Seniors with arthritis or asthma will really appreciate Arizona's warmth and humidity. Wet, cold regions are known for being hard on people with arthritis. These environmental conditions can worsen joint pain while humidity can make it harder to breathe.
Arizona provides high heat and low humidity. It can help keep arthritis pain under control and doesn't pose the same respiratory risks of humid regions.
If you experienced allergies in a different area, then it's possible that moving to Arizona could alleviate the problem. The local environment is different from other places, which means that it may not contain the plants that were causing allergic reactions.
Keep in mind that plants bloom all year round in Arizona, so you may want to visit to determine if allergies will be a concern if you become a long-term resident.
Natural Parks That Keep Seniors Active and Engaged
Seniors who like to move will appreciate the close proximity to beautiful national parks. Visit the North Trail in McDowell Mountain Regional Park or see the Montezuma Castle national monument, which is home to 800-year-old cliff dwellings.
If you're looking for a longer day trip, you can drive a few hours to Arizona's renowned Grand Canyon National Park.
Research the park you would like to visit to ensure that it offers something that is suitable for you based on mobility and physical ability. Hiking trail difficulty will vary and some locations may have additional amenities like picnic areas and scenic views that are accessible by vehicle.
Living the Retired Life in Arizona
Arizona is home to some of the best senior living communities. Contact Assisted Living of Scottsdale to learn more about our locations, amenities, and living costs. Let us help you live the best retired life you can in Arizona!